Stworzono / zmodyfikowano 02/12/2020 przez Korneliusz
Czasem dobrze wyjechać by poznać nową perspektywę. Zwłaszcza do Grecji. Nasza pracowniczka Nina JB już od kilku tygodni poznaje greckie kooperatywy i inicjatywy z obszaru alternatywnej ekonomii. Przez kolejne tygodnie dokonuje analizy działania jednej z ateńskich Kooperatyw – SYN.ZO , by móc wprowadzić poprawki, reformy, po prostu pomóc tam gdzie się da. "Aktualnie w sklepie SYNZO zajmuję się analizą płynności zamówień oraz wdrożeniem procedur aktualizowania stanów magazynowych. To dość techniczne rozwiązania, o których wadze zdałam sobie sprawę pracując w Kooperatywie "Dobrze".
Greccy spółdzielcy są otwarci na nowe pomysły dlatego z dużym zainteresowaniem spotkało się spotkanie na którym opowiadałam na temat modelu działania naszej Kooperatywy. Z dystansu widać jak wiele nam się udało i ile udało się nam już wypracować. To bardzo "Dobrze" ;)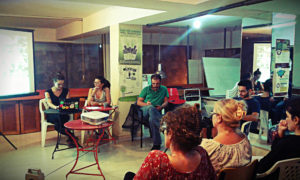 Kooperatywa SYNZO jest nieco starsza od "Dobrze". Prowadzi sklep spożywczy w dzielnicy Aten- ZOGRAFU. Sklep otwarty przez 6 dni w tygodniu w całości opiera się na pracy wolontariuszy. Wszystkie decyzje wypracowywane są w tematyczny grupach roboczych. SYNZO poza sklepem dysponuje też dużą antresolą (na zdjęciu) która służy do spotkań oraz regularnych ćwiczeń (tay chi i joga)!