Wspieraj Kooperatywę za darmo przy okazji zakupów w innych sklepach internetowych!
Współpracujemy z Fundacją FaniMani, która z kolei nawiązała partnerstwa z ponad 1000 sklepów internetowych. Dzięki temu robiąc w nich zakupy kilka % prowizji sklep przekaże jako darowiznę na rzecz Kooperatywy.
Co Ty musisz zrobić?
1. Wejdź na stronę https://fanimani.pl/ i załóż konto.
2. Zainstaluj Przypominajkę (dzięki temu będziesz wiedzieć, który sklep jest partnerem akcji). Wystarczy, że raz wskażesz Kooperatywę jako organizację, którą chcesz wspierać – ten wyborów zostanie zapamiętany.
3. Po wejściu do danego sklepu internetowego aktywuj darowiznę dla Kooperatywy (pojawi się takie powiadomienie) i kontynuuj swoje zakupy.
To tyle. To naprawdę proste!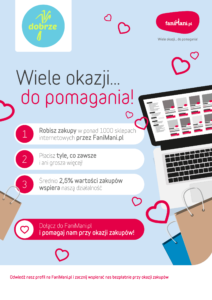 Zobacz jak inaczej możesz nas wspierać >> tutaj<<